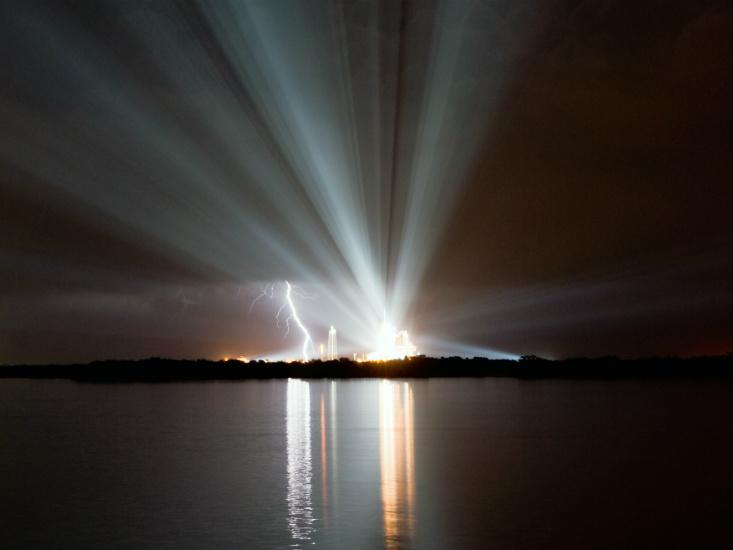 On July 19, Russia launched a satellite designed to study the effects of microgravity on, among other living beings, geckos. The purpose was to observe the geckos—four females and one lucky male—mating, then study how fertilization in microgravity affected the eggs after the satellite returned to Earth. But there was a glitch: The satellite stopped responding to commands. Russia's orbiting gecko orgy was zooming around the planet out of control.
An out-of-control orbiting gecko orgy is probably a first, but in one way is not so surprising: Ever since we started sending machines up into space, strange challenges have been pretty common, especially when new technologies are being tested or deployed. A lot of what we've learned about spaceflight has come through trial and error, and oftentimes breaking into new frontiers reveals interesting and unexpected problems. Controlling what happens inside a spacecraft isn't exactly rocket science. In some ways, it's harder. 
An unanticipated but preventable problem nearly canceled America's very first human spaceflight. On the morning of May 5, 1961, Mercury astronaut Alan Shepard was fitted in his pressure suit and strapped inside the Freedom 7 spacecraft, ready to make the nation's tentative first foray into space: a 15-minute suborbital flight. But after hours of delays, Shepard found that the coffee he'd had with breakfast was ready, one might say, to make its return flight. The spacecraft's systems were exquisitely designed for the mission at hand, but there were no provisions for an astronaut to relieve himself during what was supposed to be such a short time wedged into his suit and craft. It was the one thing no one at NASA had planned for.
Shepard couldn't leave the spacecraft without delaying the launch further, and he was wired with so many biomedical sensors that he risked electrocuting himself if he did his business in the suit. But there was simply no better option. Technicians finally shut off the sensors and, lying supine in his spacecraft, America's first astronaut wet himself. The urine pooled at his lower back, but the oxygen flowing inside his suit soon dried it up. Shepard launched into history dry, if a little smelly.
Twenty years later, feces became an issue in space on the first mission of the space shuttle program. The earlier, Apollo-era astronauts defecated in bags and stored the waste on board the spacecraft; solid waste couldn't be jettisoned like urine. But storing waste wasn't something NASA wanted to do on the space shuttle's longer-duration Earth-orbital flights, so when STS-1 launched on April 12, 1981, it did with a state-of-the-art toilet on board.
That new device  was much more like a standard, sit-on toilet. Air sucked waste down, and a "slinger" inside propelled it against the side of the bowl. From there, fans separated liquid from solid waste, with the latter exposed to a vacuum and freeze-dried, and then stored on board. But the complex system of pumps and fans didn't work harmoniously, and the toilet became clogged before the mission ended. It got worse. It turned out that a by-product of exposing fecal matter to a vacuum was fecal dust, which seeped into the ventilation system. NASA's attempt to give its astronauts a cleaner, more "normal" toilet instead gave them a cabin environment contaminated with freeze-dried fecal dust that risked reconstituting in the moist tissue of their lungs. It took NASA three years to fix the shuttle's toilet situation. 
NASA learned lessons in more spectacular fashion as well, as was the case with Apollo 12. The morning of November 14, 1969, was stormy, but no one thought it was bad enough to delay the launch of this second lunar-landing mission. And so the massive Saturn V was cleared and rocketed away through stormy skies. Thirty-six seconds later, NASA found out that the rocket could act like a lightning rod—the Saturn V was struck twice by bolts of electricity that rode its contrails all the way down to the launch pad. The strikes had the effect of knocking the spacecraft's power to dangerously low levels, upsetting the signal conditioning equipment that translated sensor data from the rocket into displays on the spacecraft's computer and in mission control. When the lightning hit, the spacecraft seemed to go haywire. The solution, which almost no one at NASA had heard of, was to flick the switch for an obscure system called the signal conditioning electronics into its auxiliary setting.
Apollo 12 also debuted a new technology for NASA: color TV. The agency wanted to bring the moonwalk to the world in full color this second time around. But it never happened; hardly any video was returned from the mission. In unpacking the camera on the moon's surface, lunar module pilot Alan Bean unwittingly pointed it at the Sun, frying one of the image sensors. Cameras took revenge on Bean later in that flight. Though the crew stored and secured everything for splashdown, one camera slipped out and fell on Bean's head on impact with the Pacific Ocean, hard enough to briefly knock him out.
There are many more stories of unexpected problems turning into important learning moments in spaceflight's history. In most of those cases, clever astronauts and engineers have found inventive ways to address the issues. So too with Russia's problematic gecko orgy: The space agency Roscosmos regained control of the satellite last weekend and confirmed that the geckos are all doing well.
Amy Shira Teitel is a spaceflight historian and freelance writer. Her blog, Vintage Space, is hosted by Popular Science.