This month Nautilus is tackling the idea of home—what it is, what it means to us, and how we find our way there. Along the way, we're discovering that home is an essential idea for humans, the subject of countless songs, poems, movies, paintings, novels, and idioms. In English, home is where the heart is. There's no place like it. 
But that's now how everybody would express their special fondness for home.
We asked readers to send us their home town phrases. While in the US people might wistfully refer to "home sweet home," in Dutch they say that "the clock doesn't tick the way it does at home anywhere else," and in Finland, people agree that "one's own home is worth gold."
Check out the map below to see a few more ways to talk, and think, about home. Did we miss any? Add your idioms about the home in the comments section.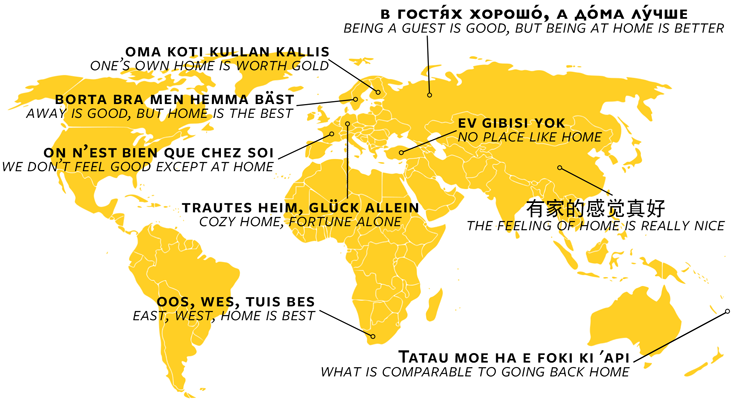 German:  Trautes Heim, Glück allein  — Cozy home, fortune alone
Tongan:  Tatau moe ha e foki ki 'api  — What is comparable to going back home?
Swedish:  Borta bra men hemma bäst  — Away is good, but home is the best
Finnish:  Oma koti kullan kallis  — One's own home is worth gold
Dutch:  Zoals het klokje thuis tikt, tikt her nergens  — The clock doesn't tick the way it does at home anywhere else
Afrikaans:  Oos, Wes, tuis bes  — East, west, home is best
French:  On n'est bien que chez soi  — We don't feel good except at home
Russian:  В гостя́х хорошо́, а до́ма лу́чше (V gostyákh khoroshó, a dóma lúchshe)  — Being a guest is good, but being at home is better
Turkish:  Ev gibisi yok  — No place like home
Chinese:  有家的感觉真好 (Yǒu jiā de gǎnjué zhēn hǎo) — The feeling of home is really nice
Czech:  Všude dobře, doma nejlíp  — Everywhere good, at home best
Serbian:  Kod kuće je najlepše  — It's the best at home