An artist has a special relationship with time. As the age-old adage goes, ars longa, vita brevis: Art is long, life is short. Art can achieve a level of permanence beyond the aspirations of any mere mortal, which is, in part, why it is so attractive to us. We use timelessness, too, to determine which art is great art, and which was a passing fashion. And as with so much else, our fascination with confluence of art and time has echoes in technology.
Ever since Leonardo da Vinci added turpentine to his "The Last Supper" in 1498, which began to eat away at the oils before they were dry, art conservators have been studying how to peel back the chemistry of light-broken polymer chains and oxidized copper to reveal the original, and seemingly timeless, versions of art that is centuries old. Museum goers take in the results in climate-controlled conditions, and are asked to consider the marks of time as academic curiosities layered onto the truer expression waiting underneath.
But these attitudes by curators and consumers alike carry with them a crucial assumption: that the artist did not intend for their work to decay. This assumption was markedly untrue for a whole generation of artists from the 1960s known as the Minimalists, including Richard Serra, Robert Morris, Donald Judd, and Eva Hesse. Where earlier artists may have unwittingly made their art fragile, these artists deliberately turned away from durable materials. Living and working in the industrial Bowery district of lower Manhattan, they "headed to the hardware instead of the art store," in the words of Elisabeth Sussman, a curator at the Whitney Museum of American Art. There, they stocked up on degradable materials like fiberglass, plastic, and latex rubber, which today is most commonly used for hospital and kitchen gloves. These materials are made of polymers held together by relatively fragile carbon-carbon bonds and have a modest shelf life. With time and exposure to everyday environmental hazards such as light, heat, moisture, and carbon dioxide, they begin to sag, their texture becomes distorted, and many will eventually break. The legacy of their lives and of their art challenges us to look squarely at the fleeting nature of our lives.
The Minimalists used impermanent materials to expand the range of their expression. Exemplary in this regard is Eva Hesse's use of organic latex to give her installations a billowy, flexible quality. One of her signature works, called "Aught," comprises four amber rectangular pieces of canvas covered with a latex that has the consistency of sour cream. Photographs of the installation just after it had been completed, in 1968, show the four amber units billowing like puffed-up pillows. Critics prized it and other of her installations for their ingenuity, free spirit, and playful treatment of space. Hesse "brought what Yeats called 'sensual music' into an art world that had been overtaken by what it thought were 'monuments of unageing intellect,' " wrote the late American art critic Arthur C. Danto. Today Hesse is regarded as one of the leading figures of American minimalism, and her sculptures have been exhibited in major museums around the world. In 2007, a selection of her minor work sold for $10 million at a series of Christie's New York auctions.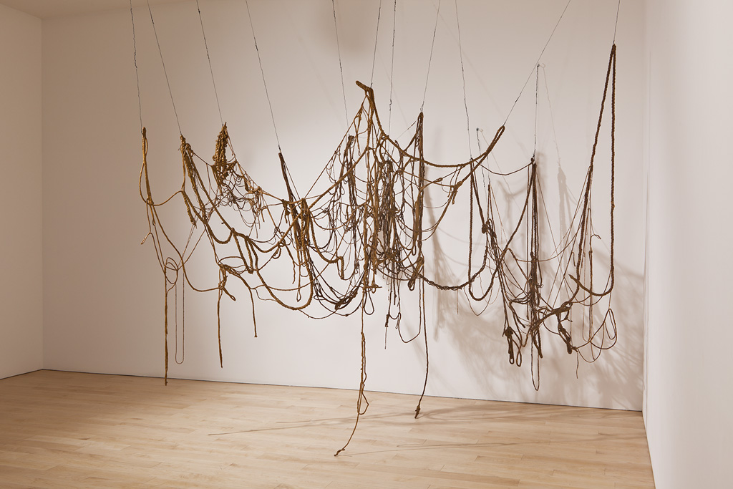 But there is a wrinkle. As Yvonne Shashoua, a senior research scientist at the National Museum of Denmark explained to me, latex is particularly susceptible to the effects of time. It usually contains sulfuric additives which can react with oxygen, turning the latex first into a rubbery liquid and ultimately into a brittle solid that is prone to cracking. This was the predicament that Michelle Barger, deputy head of conservation at the San Francisco Museum of Modern Art (SFMOMA), faced as she began preparing a Hesse retrospective for the museum in 2002. Many of Hesse's works had begun to deteriorate. The four units of "Aught" in the collection of the University of California's Berkeley Art Museum were flat and sagging. The latex had liquefied and pooled in some places, hardened and broken in others. One day, the curators found the artwork literally dripping on the floor. That's when the Berkeley museum agreed to lend "Aught" to SFMOMA. They had one condition: that Barger could restore and stabilize it for display.
We use timelessness to determine which art is great art, and which was a passing fashion.
Barger, who has a background in chemistry, had some ideas about how to repair the piece, but was anxious about interfering with the work's shape and integrity. To gain perspective on the question, she approached a host of curators and art historians, as well as Hesse's sister Helen, her assistant Douglas Johns, and Sol LeWitt, a world-renowned artist who has since passed away. Johns, who worked with Hesse in her Manhattan studio, told Barger that Hesse relished the fact that her materials had an expiration date. "I conveyed Eva's wishes that her art be displayed as is, without intervention," he says. "She didn't give a damn—those weren't the actual words—but she felt she was doing something that was transient, and she liked the transient nature of it." Not only would Hesse not have wanted her art restored, said Johns, we shouldn't want her art restored either. "Eva was a pioneer who put deterioration into art. She introduced the fourth dimension into art as nobody else has." On the other hand, LeWitt, a good friend and supporter of Hesse, didn't want the work displayed at all. "He said it had run its course," Barger says.
Tom Learner, Head of Science at The Getty Conservation Institute in Los Angeles, says the dilemma Barger faced in 2002 is far from unique. Riffing on Tolstoy's famous line, he says that every non-traditional material disintegrates in its own way. His own particular worry is a relief sculpture in clear plastic made by 20th century French brothers Antoine Pevsner and Naum Gabo. The plastics they turned to were cellulose nitrate and cellulose acetate, which came in thin sheets and were wonderfully versatile. But both degrade severely and can warp and discolor rapidly, and—in the case of cellulose nitrate—disintegrate completely within decades. Both of these plastics were widely used in early negatives for photography, and movies, and the acids secreted by them ruin the prints.
Not only are these modern materials very delicate, the technology for restoring them is far from perfect. "We are feeling around in the dark" when it comes to preserving works made of degradable materials, Learner says. Even the best efforts can lead to just a partial restoration. The Chicago Conservation Center's recent effort to restore a 3,300-pound aluminum mobile by the American artist Alexander Calder succeeded in bringing the original color back through the use of a mild, aqueous solvent mix and micro-fiber cloths, but was unable to repair some of the distortion. But the mobile continues to greet visitors in downtown Wichita, Kan. today.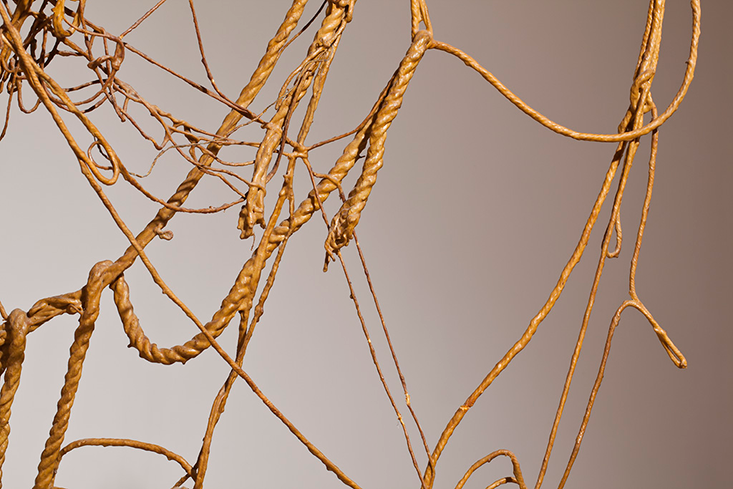 The work on Calder may be a glimpse into a future in which necessity, more than ideology, dictates how we restore and view aged art. As Learner puts it, "There seems little point in keeping a piece locked away so that future generations can't at least glimpse it once." Rather than expecting science to reverse the aging process, Learner says, we should look to ingenious solutions like the one currently being applied to another seminal Hesse work, "Untitled (Rope Piece)." An installation made up of long cotton cables, string, and wire, slathered in latex, Hesse intended for it to be lithe and airy. But, as with "Aught", the latex is now shriveled and brownish; frayed rope peaks out from areas where the latex has eroded. Conservators worry that if "Untitled (Rope Piece)" had to be removed from the crate it would crumble and break apart due to frequent handling.
Hesse "brought what Yeats called 'sensual music' into an art world that had been overtaken by what it thought were 'monuments of unageing intellect.' "
On a recent morning at the Whitney Museum's storage area, conservator Eleonora Nagy demonstrated what she called the "crate" solution. It's a large wooden frame with hooks attached to the ceiling to hold the upper parts of the artwork and braces to relieve the stress of the art's own weight. In addition, the crate can turn into a display area. Laser pointers indicate the correct spots on the ceiling where the sections of the installation should be attached. This relieves handlers from having to spend time determining how to hang the ropes, and reduces the possibility of mistakes.
Techniques like the crate method help us cope with aging art. The other part of the puzzle will be learning how to turn coping into appreciation. At an international art symposium called "Fail Better," held in 2013 at the Hamburg Museum in Germany, Nagy and Barger discussed the idea of teaching the public a new way of looking at art. "We don't object to seeing time's toll on classical art," Learner said in a phone interview. "We've come to expect the pretty green patina on Donatello's 'David.' We like it." And perhaps it's time to see the same thing in modern art, Barger says. "Will brittle latex and yellowing plastic ever seem classic and dignified?" she asks. "Maybe we need to accept this."
In the end, Barger decided to show "Aught" in the 2002 exhibition after restoring it in the least invasive way she could. She applied laminated cheesecloth using methylcellulose—a synthetic liquid adhesive—to strengthen the brittle parts, keep the latex from dripping, and to give the exterior more loft. The piece became a star of the three-month exhibit. Degraded and imperfect as it was, it succeeded in challenging the public to consider the temporality of art, and of their own lives. Johns recalls how Hesse once looked at the discolored latex jungle of cables that "Untitled (Rope Piece)" had become, and described it as "my chaos." "She gloated at the transience of it," Johns says. Not long afterward, Hesse gave an interview to Artforum. Asked if she worried about the impermanence of her materials, she responded, "Life doesn't last, art doesn't last." She died three months later, at age 34.
Cover photo credit: Time & Life Pictures/Getty Images
Article photo credit: Eva Hesse (1936-1970) Untitled (Rope Piece), (1969-70). Latex, rope, string, and wire. Dimensions variable. Whitney Museum of American Art, New York. Purchase with funds from Eli and Edythe L. Broad, the Mrs. Percy Uris Purchase Fund, and the Painting and Sculpture Committee 88.17a-b