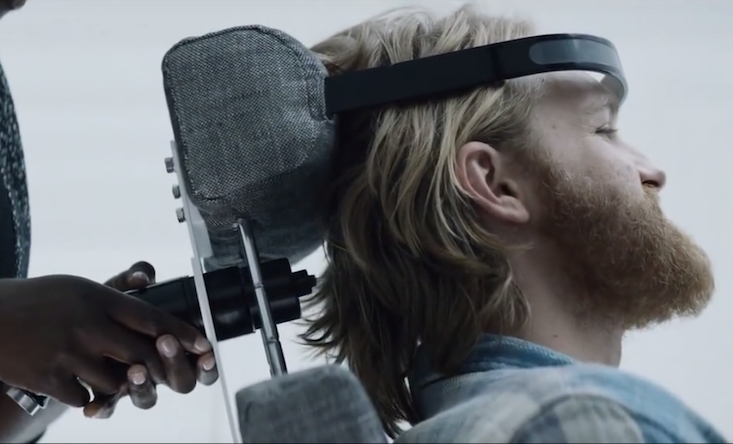 Both of Black Mirror's virtual-reality episodes, "USS Callister" this season and "Playtest" in last one's, presume VR users will be alone, immobile, and unaware of their true surroundings. They're rendered unconscious in the real world as they're brought online with simulated people in the virtual one, and this vulnerability is key to the plot of each story. Annabel Jones, the show's executive producer, said the point of "Playtest"—in which an adventure-seeker gets paid to try out a scary new VR game—was to savor the thrills of the horror genre while holding "a mirror up to now and allow us to stop and think and address, but in an entertaining way." This can leave many viewers thinking, when the tech exacts some gruesome cost, as it did in "Playtest"—apparently frying the gamer's brain—"That's what happens when you take it too far."
This is misguided. We will take VR far, in creative and unanticipated ways, but it will also be mundane, contrary to the bleak alarm peddled by Black Mirror. And that's fine, says Ken Perlin, the N.Y.U. computer scientist and director of the N.Y.U. Games For Learning Institute. For example, with his mobile VR headset, the Holojam, Perlin is prototyping "the ordinary future," he told Nautilus.
"The ordinary and banal is much more important than any one particular thing. On the other hand, it's our lives."
On his blog, in a post titled "The Holodeck is other people," Perlin explained that his interest in VR is "not really about creating an alternate world, but rather in finding new ways for people to hang out with each other. To me the real attraction is always other people. If you and I enter the Holodeck together, we may discover (or invent) new ways to communicate with each other. And that's the real power-up."
In his Ingenious interview with Nautilus, Perlin explained how this affected his work—such as the recent project "Holojam in Wonderland"—at NYU. According to the project's site, it's the "first multi-audience, multi-performer live action theatrical performance completely in virtual reality." He went on, "We want to understand how people interact with each other in that future that's coming, when visual things will be able to float in the air between us because the technology will enable it. The ordinary and banal is much more important than any one particular thing, whether it's playing games or seeing movies or any one activity. On the other hand, it's our lives." Watch the rest of our interview with Perlin here, then check out "Holojam in Wonderland."
Brian Gallagher is the editor of Facts So Romantic, the Nautilus blog. Follow him on Twitter @brianga11agher.