created by Nautilus' marketing team
For the month of February, the Nautilus Marketing Team will feature interviews with organizations and institutions working to increase opportunities for young Black people to imagine and succeed in STEM career paths—and we'll donate 10 percent of all new member subscriptions toward their initiatives.
Black representation in STEM (Science, Technology, Engineering, and Mathematics) fields totaled only 9 percent in 2021, as reported by The National Science Foundation.
---
"When Black girls win, everyone wins," says the Interim CEO of Black Girls CODE.
Sofia Mohammed was not a math person. From the age of 9 when her family emigrated to the United States from Ethiopia—where she was born and partially raised—until her early years at public high school in Harlem, New York, she would swear by her mathematical deficiency. 
She held this belief until her family encouraged her to take an AP calculus class, taught by an inspiring teacher, Mr. Nixon. "He broke concepts down in a way that were relatable to me at the time, and made math fun," Mohammed said. And then she thought, "okay, maybe I can do this."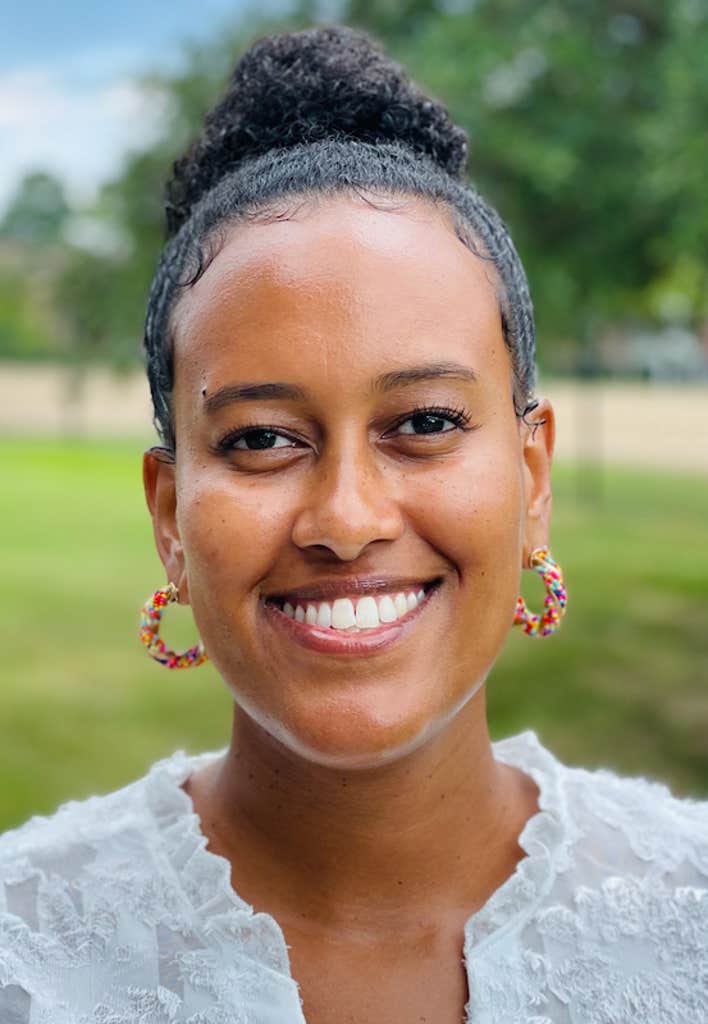 Today, Mohammed is a mathematics educator and the Interim CEO of Black Girls CODE, an international not-for-profit organization that facilitates coding programs for Black girls and women across 14 chapters in the U.S., one in Johannesburg, South Africa, and online via the free coding academy CODE Along.
We spoke with Mohammed about her journey as a mathematician, the importance of self-belief, and how Black Girls CODE is building pathways for young women of color to embrace STEM careers in the tech marketplace.
As the Interim CEO of Black Girls CODE, what is your overarching mission for the organization?
The ultimate purpose of Black Girls Code is to increase the number of Black women and women of color in digital technology. We accomplish this by introducing them to computer science, education, and STEM skills at a young age. We put Black girls first in the tech space, and we do that by catering to their girlhood, their culture, and their well-being in our curriculum. 
No matter how many programs or opportunities exist, if Black girls and women don't believe that they belong in these spaces, then they're going to fall flat.
We also ensure that our curriculum is not all about technical skills, but also about cultivating their confidence. They're entering the tech space, which requires the cultivation of self-belief, perseverance, and sense of belonging. 
So the work is almost as much psychological as it is educational.
Absolutely. I think that is one of the things that we struggle with, as women and as girls, and it starts early on—all the negative things we say to ourselves that are supported by what we see on TV, in magazines, and in advertisements. These things tell us whether we can or cannot do something. 
I have a 7-year-old niece. Every time I go to the toy store and I'm looking for a STEM or construction related toy, it's often not in the girls' section. For girls, there are dolls and cooking things and fashion toys—which are fine, right? But we need to diversify the type of choices we provide girls as well. 
Earlier this week, I spoke with Dean Wilbur Walters of Jackson State University, who aptly pointed out that while only 9 percent of people working in STEM jobs are Black, it's even rarer to find Black women in the field. What are you doing to close the opportunity gap for young women of color pursuing or imagining careers in STEM?
The most important strategy is instilling in girls a sense of belonging and confidence building— shaping the narrative that they deserve to be in the STEM environment, too. No matter how many programs or opportunities exist, if Black girls and women don't believe that they belong in these spaces, then they're going to fall flat. 
The second strategy is mentorship and leading by example. One of the most effective ways to change the narrative is to show Black girls and Black women that there are other women in STEM roles who have similar backgrounds and who could mentor them. We recently launched our alumni program, which is in its early stages of development. 
Lastly: Skill building. Confidence is built through competency. When Black girls (and girls in general) feel they have the skills, the tools, and the practices in their back pocket, then they feel like "oh, I could do this too." Our curriculum is designed to be project-based, and centered on themes that they themselves as Black girls care about. For example, one project is to code a self portrait. So a young girl can actually learn how to code, and what she's working toward is creating parts of herself.
Do you partner with educational organizations, specific employers, or government programs to accomplish your goals?
We primarily partner with schools. A lot of our programs are facilitated in school buildings, either after school hours or in the summertime. We have chapters in 14 U.S. cities, made possible by partnerships with like-minded local organizations who help us facilitate relationships with girls and their families in those cities. 
There was a time where Black Girls CODE did not have the support that it has now. There were a lot of doors closed on us. Because people did not believe in our mission to diversify the tech marketplace. 
What kinds of initiatives are made possible by these partnerships? 
Over time we have been able to expand our team and chapters, and increase the quality of our programming. In fact, in partnership with GoldieBlox—a phenomenal company that creates games, and entertainment for girls to develop an early interest in engineering—we're launching our very first digital programming: CODE Along.  
CODE Along is a free video-based coding academy that centers Black girls as hosts and instructors of a coding curriculum. The first episode launched on February 10th, and a new episode will be released every Friday. It's an awesome series that allows girls to learn coding in a warm, supportive, Gen Z-inspired environment. You can find it on our website and on YouTube.
Diversifying the tech industry means getting more Black girls and women involved in solving some of the world's biggest problems
When you think about the young engineers and students who attend your programs, do any stand out as models of success?
There's a young lady named Cadence. She has attended workshops, both digitally and in-person, with Black Girls CODE for years. She's now studying computer science at Spelman College—and she's also been a spokesperson for Black girls to connect with mentors.
Recently, she won a scholarship with Black Girls CODE and, along with four alumni, attended AfroTech 2022 in Texas—this is the largest tech conference specifically for Black techies. She's also participated as an on-camera host for our quarter-long series on code instruction. Cadence represents the mission of Black Girls CODE in real life.
Part of your mission statement is "to realize the true potential of democracy through diversity and inclusion." How can introducing young women of color to critical STEM skills like computer programming and technology at an early age ultimately lead to a greater societal impact?
I'm gonna keep it simple, but it's going to be very real. When Black girls and Black women win, everybody wins. Diversifying the tech industry means getting more Black girls and women involved in solving some of the world's biggest problems. If we leave Black girls—or women in general—out of the equation, we are not utilizing literally 50 percent of the world's brain to solve some of the most pressing scientific, technological, and philosophical challenges of our time.
Secondly, when we think about financial equity and economic freedom, we know that the tech industry is ripe with opportunities for wealth building and investment. Black women and Black girls deserve a piece of that pie, so that they can elevate not only their own financial status, but also help elevate the economic freedom of their communities and their families.

Interview by C.L. Croft.
Lead image courtesy of Black Girls Code.