Catherine Townsend-Lyon, 53, started gambling excessively when she was 30. As a result, her 40th birthday wasn't much of a celebration: She was hospitalized, shortly after a suicide attempt. She'd tried to slit her wrists the day she'd missed her best friend's funeral, after stealing money from her job at a credit service to play the slot machines.
That was just one part of how bad it had gotten. She would arrive at casinos at 7 a.m. and wear bladder control underpants. She didn't want to have to get up—even for a quick bathroom break—if she was on a winning streak. At one point she hoped to win back enough money to stave off foreclosure on her home.
"It's where I could find stress relief," she says of her gambling, which she detailed in a book titled Addicted to Dimes. "I didn't have to worry about anything—whether it was my past, whether it was the money I'd spent. You don't think about any of it. It's like you just go there and you're escaping into a whole different world," she says.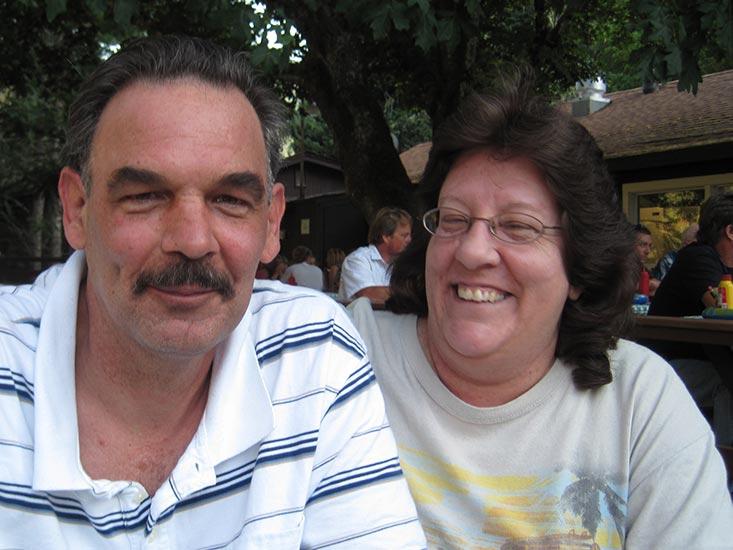 Gambling addiction stands out for its destructive power and pull. With substance problems, people can blame the chemical activity of drugs and argue that addiction occurs when repeated exposure physically alters the brain. But gambling causes life catastrophes that are at least as extreme—sometimes more—without any kind of foreign psychoactive chemical getting under the skin, indeed, without any apparent "substance" at all.
"First you get that euphoric feeling, that rush and excitement," Townsend-Lyon says, "Once you become addicted, then you get to the point where you don't care about anything. You're in a zone and you don't realize what's going on around you."
The high is in expecting an outcome, desiring it, imagining it, not in its fulfillment.
Problem gambling is addiction stripped to its core—compulsive behavior that persists no matter what the negative consequences. Compulsive gamblers risk their homes, their cars, their children's college funds, their jobs, even their lives in what looks to everyone around them like completely willful, selfish, and utterly destructive behavior.
Understanding why and how gambling can become compulsive is to recognize that all forms of addiction are a form of aberrant learning. But addiction doesn't primarily affect the kind of learning we associate with school, or with studying for tests and trying to memorize theorems.
Instead it involves changes in deep emotional learning, the sort of learning that makes first love far more memorable than algebra or verb tenses. From a neuroscientific perspective, learning is a brain change that associates experiences with each other and affects behavior. A critical part of emotional learning is changes in brain circuitry that respond to reward and punishment and link them with actions and the environment.
The best way to see addiction may be as a learning disorder—one that occurs when punishment or other negative consequences no longer deter the addictive activity. As Yale researcher Jane Taylor and her colleagues explain in a review paper focused on substance addictions, these conditions "enhance positive learning and memory about the drug while inhibiting learning about the negative consequences."1 Brain scans of compulsive gamblers suggest that the same processes are at work.2
In Townsend-Lyon's case, her gambling persisted despite terrible financial losses, despite losing all her friends and becoming depressed enough to attempt suicide more than once. She describes losing jobs because her gambling began cutting into her workday. "When it was the worst part of my addiction, I was going before work, I was going at lunchtime, I was going after work. It was outrageous. I was just so out of control."
While much time has been spent debating whether addiction is a disease or just a bad choice, recognizing how learning goes awry is the best way to improve treatment, prevention, and policy.
B.F. Skinner, who laid out the fundamental principles of learning through reward and punishment in the mid 20th century, recognized their relevance to gambling right from the start, says Natasha Dow Schull, author of Addiction By Design: Machine Gambling in Las Vegas and associate professor of media, culture, and communication at New York University.
Skinner told people that slot machines were basically human versions of the famous "Skinner boxes" he made for rats and pigeons. "People often think it's a heavy-handed metaphor to call a slot machine a Skinner box, but in fact he was calling Skinner boxes slot machines way back," Schull says. Like the animals in their cages, slots players would pull a lever and wait to either receive a reward or not.
Early in his research, Skinner accidentally discovered an important factor that makes gambling addictive. One day, while working in the lab, he began to run out of rat treats. Since the treats were time-consuming to make and he had to do it himself, he didn't want to stop the experiment. So instead of rewarding the rats every time they pushed the lever, he did it only once a minute. To his surprise, the intermittent reward made them push more, not less.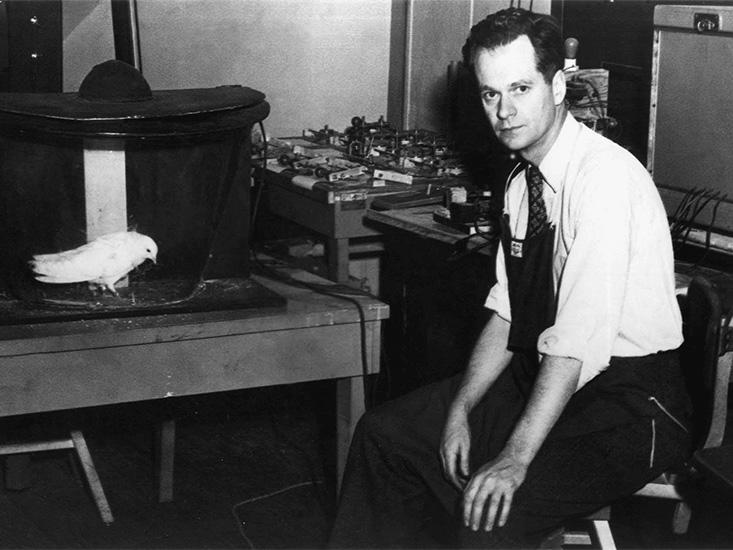 In his behavioral experiments across species, Skinner found that the pattern of reward that created the most robust response—and the most stubbornly persistent learning—was not providing treats every time an animal pressed the lever. It was rewarding them at random: exactly like a slot machine.3 Like human gamblers, pigeons began to do peculiar repetitive behaviors at the lever. It was as though they were superstitiously repeating a behavior that they associated with past "luck."
But why would animals, including us, be more responsive to what Skinner called "intermittent reinforcement" than to getting rewarded every time you do the right thing? This is the paradox of the learning that is at the heart of addiction—whether to gambling, cocaine, shopping, or heroin—and it offers clues about what's going wrong in the brain.
Over the course of evolution, many situations have required animals to persist despite negative outcomes; for mammals and particularly humans, finding and keeping a mate and rearing needy and demanding offspring are among the biggest such challenges. If we didn't have a mechanism that pushed us to persevere in these pursuits, our species never would have survived. "The brain's reward systems evolved to motivate us organisms to do things that we should do," says Larry Young, a professor of psychiatry at Emory University who studies social bonding.
Addiction involves the sort of learning that makes first love far more memorable than algebra.
When working properly, our basic motivational systems drive us to seek partners, despite rejection, fights, fears, and other challenges. They set our priorities, pulling or pushing us toward what their calculus determines is most likely to allow us to survive and reproduce. Our emotions, in fact, are fundamentally algorithms for rapid decision-making, which may have been shaped by the history of what actions best promoted survival and reproduction.
The same system also makes babies seem unbearably cute, motivating parents to tolerate their noise and their constant, relentless demands—and even enjoy doing so. (Puppies and kittens often hitch a ride on this attachment system, making us want to care for them, too.)
"There's a lot of shared neurochemistry between love and bonding and attachment and addiction," says Young. "Basically, it uses the same neurochemistry. But love is an association in the brain that this particular individual is associated with that reward."
In addiction, the paraphernalia, the slot machine or crack pipe, becomes the focus, rather than a person. And when intense drive and a feeling of biological urgency get directed toward a drug or activity like gambling, serious problems can occur. It's hard to make choices when the machinery that guides choice is itself misdirected.
Young's research on monogamous and non-monogamous voles, which are a type of field mice, shows how neurons form new connections when bonding with a mate. In monogamous voles, the release of hormones like oxytocin links the reward regions and the reduction of stress with the presence of their mate. These chemicals help the brain associate the release of natural heroin-like neurotransmitters—endogenous opioids—that enhance the bond with a specific partner. But this connection isn't made in promiscuous voles, for whom many partners are attractive and whose reward regions don't get rewired to form pair bonds during mating.4
The hormonal bonding process—whether with a baby or a partner—is a type of learning, one that ultimately makes our stress systems responsive to our most significant others. It lowers blood pressure and creates calm when we're together and safe, but raises alarms when there is distance or a perceived threat of harm to the person or the relationship.
Similarly, if your brain "decides" that a drug or activity is somehow essential to your emotional survival, it begins skewing your choices and changing your priorities to put this behavior first—in the same way that people in love obsess about their partners, make time together the center of their lives and often ignore other friends or work that used to be their focus. In fact, oxytocin has been shown to reduce symptoms of heroin and alcohol withdrawal, and is being studied for a potential role in addiction treatment, in part as a result of these parallels.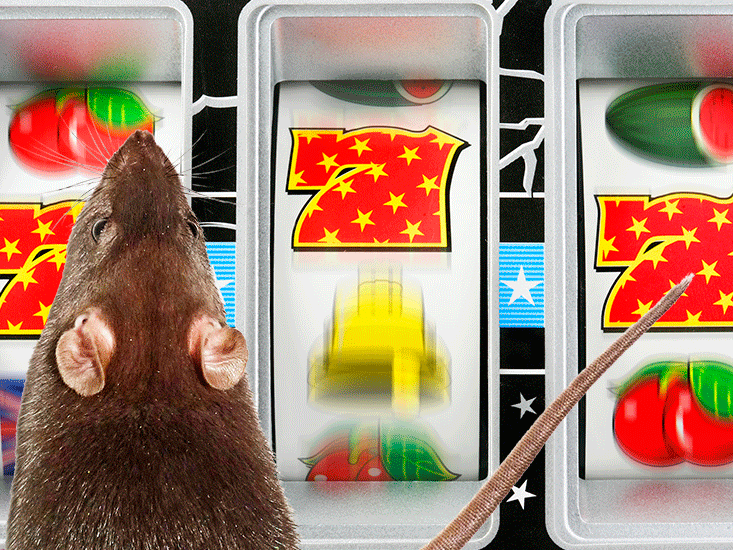 Dopamine, a neurotransmitter that signals exhilaration, is critically involved in love, sex, and all addictions that have been studied. "Dopamine is the chemical that seals the deal when something special happens," says Young. Research by Young and his colleagues shows that dopamine levels rise in monogamous voles during sex—and this type of dopamine peak is also seen when people with gambling addiction are about to bet and people with cocaine addiction anticipate snorting the sparkly white powder.5
Dopamine is also involved in the prediction of reward. While initially it rises just as a reward is received, once associations that predict the reward have been learned, the biggest rise comes not when the dice are rolled or the coke is snorted, but when the person walks into the casino or first sees the packet that contains the cocaine.6
However, if the predicted positive outcome does not occur, dopamine levels in certain brain areas drop—not just to normal, but below baseline. This punishes the bad prediction and ordinarily it makes people change their predictions and their behavior. We call the experience disappointment. But in addiction the relevant update to the prediction is not made. And so the behavior continues.
The fact that dopamine systems seek to predict outcomes also makes the patterning of addictive experience crucial to how addictive a drug, person, or experience will be. Gambling addiction rests on intermittent reinforcement alone—the experience of risk, the fact that there will be either loss or gain, creates excitement and the more unpredictable the outcome, the more compelling it becomes. With drugs, the pattern of use also matters: The more varied and irregular the dosing, the more addictive a drug will be.
Indeed, this is another reason why compulsive gamblers continue whether they win or lose—the high is in expecting an outcome, desiring that outcome, imagining it, not in its fulfillment. No win can ever be big enough to meet these outsized expectations, no loss harsh enough to dash the desire. Because dopamine calculates expectations, only a better-than-expected result can satisfy. But results seldom get better in the real world.
Brains are, in essence, prediction machines, which is why no one likes uncertainty and why solving mysteries provides such a sense of satisfaction. We seek patterns and connections, even in randomness, especially in randomness. That makes unpredictable patterns of reward—like playing the slots—into compelling puzzles that can draw us in, even if we know rationally that the odds are against us. This patterning can fool the brain into prioritizing an addiction. Townsend-Lyon's husband Thomas used to tell her, "You love the machines more than you love me."
Like most addictions, Townsend-Lyon's gambling problem didn't come out of nowhere. Similar to most women with addiction, she'd had a traumatic childhood—including emotional and physical abuse and ongoing sexual abuse by a close family member and another perpetrator. Also, like most women with addiction, she had pre-existing psychiatric problems; in her case, obsessive-compulsive disorder, post-traumatic stress disorder, and bipolar disorder.
Studies of addicts show that trauma and certain genetic vulnerabilities—especially the two in combination—increase risk for a wide range of mental illnesses and a bewildering spectrum of addictions that include gambling, sex, alcohol, and opioids. The availability of escapist drugs and activities help determine what form the problem takes. But gambling and drugs themselves don't cause addiction, a myth that often interferes with getting to the personal root of the problem.
"Everybody wants to think the object is the cause of addiction," says Howard Shaffer, director of the division on addiction at the Cambridge Health Alliance, and an associate professor of psychiatry at Harvard Medical School. "So dice causes gambling addictions. Roulette wheels cause gambling addiction. Heroin causes opioid addiction. The problem is that in every instance vastly more people use the object than become addicted." Indeed, over 95 percent of gamblers and 80 to 90 percent of people who use addictive drugs like heroin and cocaine do not develop addiction problems.7
Problem gambling is addiction stripped to its core—compulsive behavior no matter the negative consequences.
Addiction is often learned when someone with an emotional or psychological problem discovers that a particular addictive behavior helps ease it—at least at first. "I'm a childhood sex abuse survivor, and what I was doing was using [gambling] to escape, to numb out," Townsend-Lyon says.
Townsend-Lyon had little interest in alcohol or other drugs. Gambling seemed like a relatively harmless pastime, and she was excited by the possibility of what winning might mean. But the more she played, the less important winning and losing became. Instead, Townsend-Lyon played to reach "the zone"—a place where time, space, and self melt away and the cares of the real world vanish. When they're in this realm, some gamblers find winning big to be annoying because the bright lights and bells and other jarring signals that announce it can bring them back down to earth.
The craving and the experience of losing control are identical. Townsend-Lyon and other problem gamblers describe being deeply aware of the fact that their behavior is irrational and harmful—and yet finding themselves doing it anyway. The same is true with cocaine, heroin, and alcohol addictions.
This disconnection between desire and pleasure—between what researchers call "wanting" and "liking" is reflected in how addiction leads learning astray in the brain. When drugs are taken irregularly and in varied dosing—which is what tends to happen during addiction because supplies and money to pay for them are rarely constant—drug desire escalates, while the pleasure associated with using declines.
The random nature of intermittent reinforcement produces a similar effect in gambling. The dopamine-driven desire system needs less and less of a cue to create intense craving—but the systems that are involved in the actual enjoyment of the experience become tolerant and more is needed to experience a high or just to feel normal. This contrast leaves addicted people desperately pursuing an experience that they don't even like much once they get it.
Recovery from gambling addiction is difficult. For one thing, there's the sheer amount of debts gamblers accrue. For another, there's no material substance to blame for "changing the brain" or causing a "disease." The pattern and experience of gambling come together to make the brain vulnerable to getting stuck in a compulsive loop. If it is hard to get people to see addiction to drugs as a medical problem, the lack of a chemical to blame makes gambling addiction even more suspect in the public eye.
There's a paradox at the heart of the way American society tries to treat addiction. We think that if people like Townsend-Lyon simply lose enough or hurt enough or get punished enough, they'll "hit bottom" and stop. But since addiction is defined as compulsive behavior that continues in the face of punishment, punishment is clearly not the best way to deal with it. Dozens of studies show that shame, confrontation, and humiliation are ineffective and can backfire when used in addiction treatment.8
Because most people with addictions are using their behavior as a way to cope with distress, figuring out the source of that distress and alleviating it in a more healthy way is the key to both prevention and treatment. In Townsend-Lyon's case, she needed specialist mental health care to treat the post-traumatic stress disorder that resulted from the abuse she suffered, as well as specific help for her bipolar disorder and obsessive-compulsive disorder.
Finally, because addiction is misguided love, compassion, empathy, and social support are critical to recovery. Townsend-Lyon found help in a support group and through therapy, along with medication for her other diagnoses. Her husband also helped. "I was very blessed in my choice of husbands," she says, describing how he stuck with her throughout her addiction and recovery. She adds, "When we got married he took his vows seriously. I mean, I put this man through everything. Today my life is better than before I became an addict."
Maia Szalavitz is the author of The New York Times bestseller, Unbroken Brain: A Revolutionary New Way of Understanding Addiction.
References
1. Torregrossa, M.M., Corlett, P.R., & Taylor, J.R. Aberrant learning and memory in addiction. Neurobiology of Learning and Memory 96, 609–623 (2011).
2. Balodis, I.M. & Potenza, M.N. Imaging the gambling brain. In Zahr, N.M. & Peterson, E.T. (Ed.), International Review of Neurobiology Academic Press, Cambridge, MA (2016).
3. Zeiler, M.D. Fixed-interval behavior: effects of percentage reinforcement. Journal of the Experimental Analysis of Behavior 17, 177–189 (1972).
4. Young, L.J., Murphy Young, A.Z., & Hammock, E.A.D. Anatomy and neurochemistry of the pair bond. Journal of Comparative Neurology 493, 51–57 (2005).
5. Volkow, N.D., et al. Cocaine cues and dopamine in dorsal striatum: mechanism of craving in cocaine addiction. Journal of Neuroscience 26, 6583-6588 (2006).
6. Schultz, W. Dopamine reward prediction error coding. Dialogues in Clinical Neuroscience 18, 23–32 (2016).
7. Szalavitz, M. Genetics: No more addictive personality. Nature 522, S48–S49 (2015).
8. White, W. & Miller, W. The use of confrontation in addiction treatment: History, science and time for change. Counselor 8, 12-30 (2007).