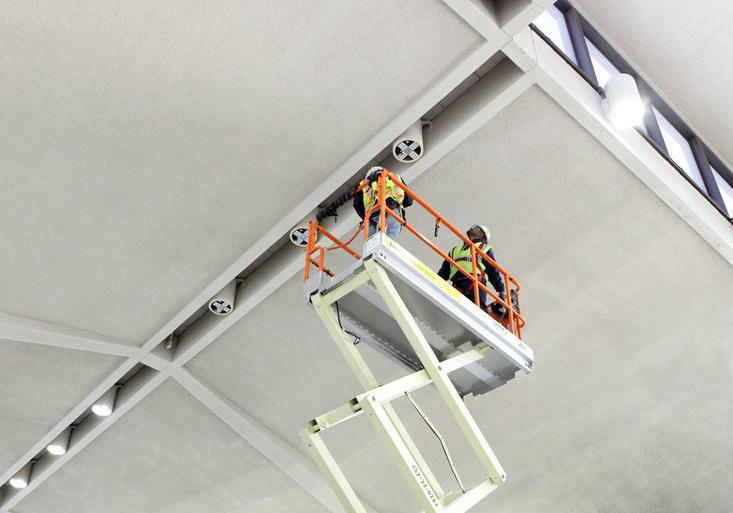 Not so long ago, LEDs were like the slide rule of the lighting world, found mostly in the lovably geekiest of places: front panels of technical equipment, scientific kits for kids, and of course Radio Shack. But over the past couple of decades, light-emitting diodes have undergone huge aesthetic improvements, branching out from their classic red to every major color—including, crucially, white. As LED-based light bulbs gradually move in and replace conventional bulbs, they may not only change the way our communities are lit but also them into giant, digitally monitored outposts of the Internet.
The future of lighting may first be peeking through at Newark Liberty Airport in New Jersey. The airport recently installed 171 new LED-based light fixtures that include a variety of sensors to detect and record what's going in the airport, as reported by Diane Cardwell in The New York Times last month. Together they make a network of devices that communicates wirelessly and allows authorities to scan license plates of passing cars, watch out for lines and delays, and check out travelers for suspicious activities.
Newark's new gear will not be the last of lighting-based digital networks. With climate change and carbon emissions an ever greater problem and LEDs an increasingly attractive, energy-efficient alternative, many cities are making plans to use them to replace their conventional bulbs. New York City, for instance, is planning to go all-LED by 2017, which would save $14 millions and many tons of carbon emissions each year. Copenhagen is installing 20,000 smart streetlights to help control traffic, keep track of when garbage bins are full, and monitor carbon dioxide levels, the Times reported.
The impending switch to LEDs is a golden opportunity for Sensity, the company behind the fixtures going into Newark Airport. Sensity makes fixtures with a wide variety of sensors that can be tailored to whatever the user wants to detect, including temperature, humidity, seismic activity, radiation, audio, and video, among other things. The sensors could detect and triangulate the source of a gunshot.
But selling the fixtures is only the beginning of Sensity's plan. The company intends  to turn its lights into a massive information-gathering enterprise and then sell the data to whoever needs it: retailers, environmental monitors, police forces. The company says there are 4 billion streetlights in the world, the upgrading of which is a "once-in-a-generation opportunity" to harness "lots of data. Sensory big data."
The prospect of ubiquitous smart lighting fixtures of course brings up questions of whether we want our communities to be filled with this technology. In some ways, it could make our offline lives more like our online lives—easily tracked, with our whereabouts and activities sold to commercial parties or monitored by official ones. Faced with that possibility, we might decide that we didn't mind the old, dumb lights so much, after all.
Amos Zeeberg is Nautilus' digital editor.