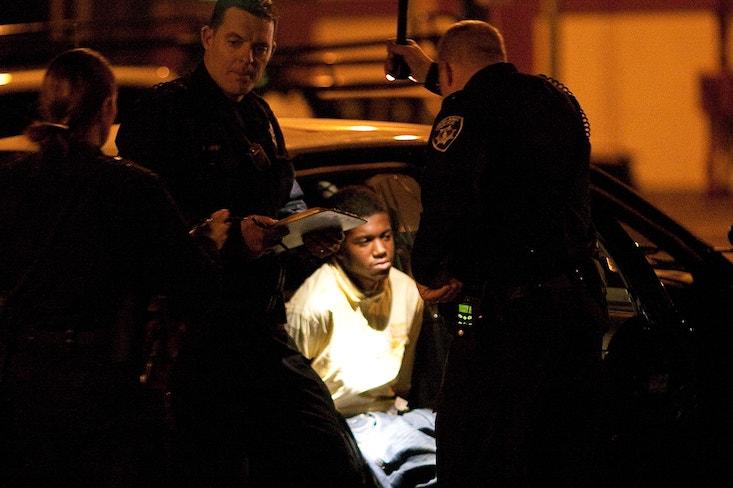 In 1978, 18-year-old Roy Watford confronted a fateful decision. No, it wasn't which college to attend—it was whether to plead guilty, while believing himself innocent, to the charge of raping a 12-year-old girl. His grandfather didn't want him to risk a jury sending him to prison for life, so he caved, plead guilty, and received a 10-year probation as punishment. Now he's petitioning to have his conviction overturned. "I didn't realize the gravity of the situation," Watford told the Washington Post in January. "I was raised by my grandmother and grandfather and was never told anything wrong by them, so I listened to them."
Teenagers have a deserved reputation for rebelliousness: Violent crime and other antisocial behavior peaks in adolescence. Yet the teenage brain doesn't just have a tendency to break the law; it's also got a tendency to admit to crimes it didn't commit.
Dopamine showcases a "different dynamic pattern" in teenagers compared to adults and is also "centrally involved in…the anticipation of pleasure."
In a recent study titled "Too Young to Plead? Risk, Rationality, and Plea Bargaining's Innocence Problem in Adolescents," researchers found that teenagers are more likely than adults to plead guilty to crimes they're innocent of, due to differences in how they assess the incentives of a reduced sentence. One of the authors, Rebecca K. Helm, a professor of law who studies how psychology manifests in the legal system, said, "We hope this research will lead to plea systems becoming fairer and less coercive for adolescents." She added, "They need to ensure that defendants are suitably developed to make such decisions and that they have the necessary levels of understanding, reasoning, and appreciation."
Why might teenagers not meet those levels? "Emotions are felt more intensely. If you don't believe an adolescent when they tell you, or if you don't believe it back when you were [one], stick someone in a brain scanner and show a picture of a scary face," Robert Sapolsky, a behavioral scientist at Stanford, told us in his Ingenious interview. "A part of the brain called the amygdala activates and, in an adolescent, it activates more. It activates longer."
Why? "It's not fully functional yet. You've got this emotive part of the brain, the limbic system, that's going full blast. You've got hormones thrown in there…and those hormones have tons of effects in the brain. Probably the best way to think about this turbulence of adolescence is this neurotransmitter dopamine," Sapolsky said. It showcases a "different dynamic pattern" in teenagers compared to adults and is also "centrally involved in…the anticipation of pleasure."
He went on, "Take an adult and you put them in a brain scanner and you can see how active this dopamine reward system is. You give them some task and they get a little reward and the dopamine system goes up a little bit. Give them a medium size, it goes up medium; big reward, it goes up all the way. Makes sense. Stick a teenager in the brain scanner. Give them the medium-sized reward and it goes up the same as you would see in the adult. Give them the big reward, it goes through the roof. Give them the little reward, it goes down and drops below where it started! For a teenager, a small reward is deprivation. The highs are higher, the lows are negatives or aversive."
Small wonder, then, that a reduced sentence, in exchange for a guilty plea, can sound so attractive to teens.
Brian Gallagher is the editor of Facts So Romantic, the Nautilus blog. Follow him on Twitter @bsgallagher.